Wayanad, the green paradise is nestled among the mountains of the Western Ghats, forming the border world of the greener part of Kerala. Clean and pristine, enchanting and hypnotizing, this land is filled with history and culture. Located at a distance of 76 km. from wayanad the sea shores of Kozhikode, this verdant hill station is full of plantations, forests and wildlife. Wayanad hills are contiguous to Mudumalai in Tamil Nadu and Bandhipur in Karnataka, thus forming a vast land mass for the wild life to move about in their most natural abode.
Regarding geographical location, Wayanad district stands on the southern top of the Deccan plateau and its chief glory is the majestic Western Ghats with lofty ridges and rugged terrain interspersed with dense forest, tangled jungles and deep valleys. The place also enjoys a strategic location as the leading tourist centres of South India like Ooty, Mysore, Bangalore, Coorg and Kannur are situated around this region.
Covering an area of 2132 km², with a density of population at 369 people/km² within a population of 780,619 people (2001 census), Wayanad consists of 3 taluks – Mananthavady, Sulthan Bathery and Vythiri. The district headquarters is located at Kalpetta municipality with a population of 29,602 as per 2001 census.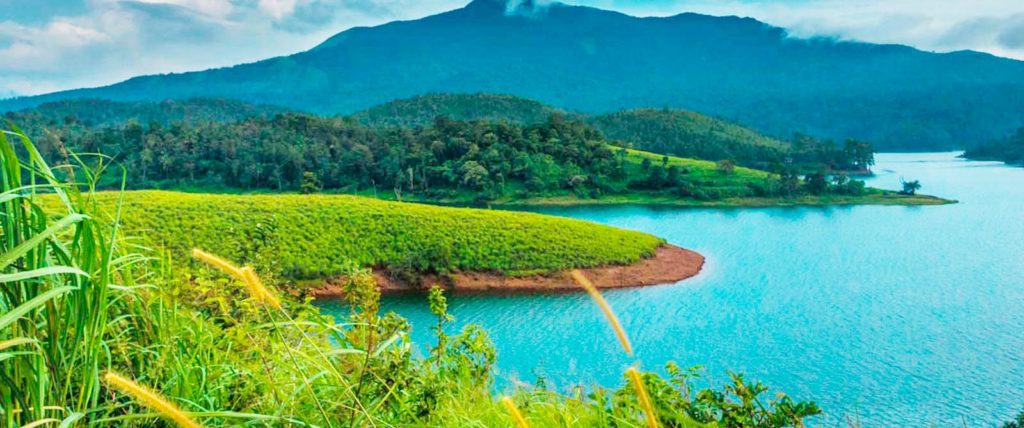 Wayanad has a salubrious climate. The mean average rain fall in this district is 2322 m.m. Lakkidi, Vythiri and Meppadi are the high rainfall areas in Wayanad. Annual rain fall in these high rain fall areas ranges from 3,000 to 4,000m.m. High velocity winds are common during the south west monsoon and dry winds blow in March-April. High altitude regions experience severe cold. In Wayanad (Ambalavayal) the mean maximum and minimum temperature for the last five years were 29oC and 18oC respectively. This place experiences a high relative humidity which goes even up to 95 per cent during the south west monsoon period. Generally, the year is classifed into four seasons, namely, cold weather (December-February), hot weather (March-May), south west monsoon (June-September) and north east monsoon(October-November). The dale, 'Lakkidi', nestled among the hills of Vythiri taluk has the highest average rainfall in Kerala.The average rain fall in Wayanad is 300mm. per year. There is a decreasing trend in rainfall in this area. The average rainfall data shows that the lowest rain fall received from north east monsoon, is in Wayanad district.
FLORA AND FAUNA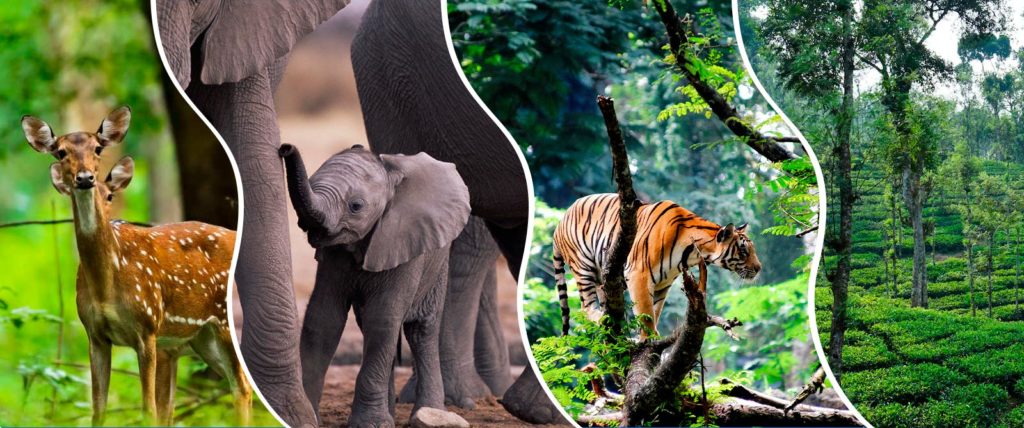 The flora of Wayanad are characteristic of the Western Ghats and the plantation crops grown in the cool climate. A major portion of the district is covered by coffee. Trees of the wild type like rose-wood, anjili (Artocarpus), mullumurikku (Erthrina), several species of caussia and many other non-descript varieties are still preserved here and there, to give shade to the coffee plants. These trees give a dembalance of wilderness to the landscape of Wayanad. In a majority of coffee plantations, the age-old species are replaced by the silver-oak which is suited to the cold climate. This tree grows quickly and its cultivation is widespread among coffee plantations for shade and for giving support to pepper. It is used for the plywood industry and thus is economical to the farmers. Eucalyptus grandis, a shorter variety of eucalyptus, whose fragrant smell suffuses the very air around it, is cultivated on a large scale in certain parts of the district.
Eucalyptus oil is extracted on commercial basis from its leaves. Of the 20,864 hectares of reserve forest, the major portion is teak plantation. Arecanut palms and jack trees are also grown here. Tea is grown as an industry in large estates. The soil and climate of Wayanad are suitable for horiculture on commercial basis. For promoting the cultivation of vegetables and raising of orchards, the Kerala Agricultural University is running a Regional Agricultural Research Station at Ambalavayal. With the clearing of forests, the diverse and buzzling animal life, characteristic of the forests of Western Ghats, has vanished from Wayanad. One can still see the bonnet monkeys, loris, mongooses, jungle cats, squirrels, jackals, hares, etc. in the limited forest areas. Elephant, bear and other wild animals from the neighboring wild life sanctuaries of Karnataka and Tamil Nadu, stray into the Begur forest range and the forests around Muthanga, which is 20 kilometres away from the town of Sulthan Bathery.
Wayanad as blessed with wilderness as Malabar will also be equally blessed with wildlife. Not only is Malabar home to wildlife reserves like Silent Valley and Muthanga Wildlife Sanctuary, it is also within easy reach of sanctuaries outside the state.