Edakkal Caves
The Edakkal Caves are at Ambukutty Mala. It is a pre-historic rock shelter formed naturally out of a strange disposition of three huge boulders making one rest on the other two with its bottom jutting out in between and serving as the roof. Edakkal means a stone in between.
The discovery of the cave and its identification as a prehistoric site were quite accidental by F. Fawcett, the then superintendent of police. An enthusiast in pre-history, Fawcett went around exploring the Wayanad high ranges which eventually led to the discovery of the Edakkal rock-shelter in 1894. He identified the site as a habitat of neolithic people based on the nature of representations on the cave walls, which appeared to him as engravings made of neolithic celts.
Edakkal rock engravings stand out distinct among the magnitude of prehistoric visual archives of paintings and graphic signs all over the world. It is the world's richest pictographic gallery of its kind.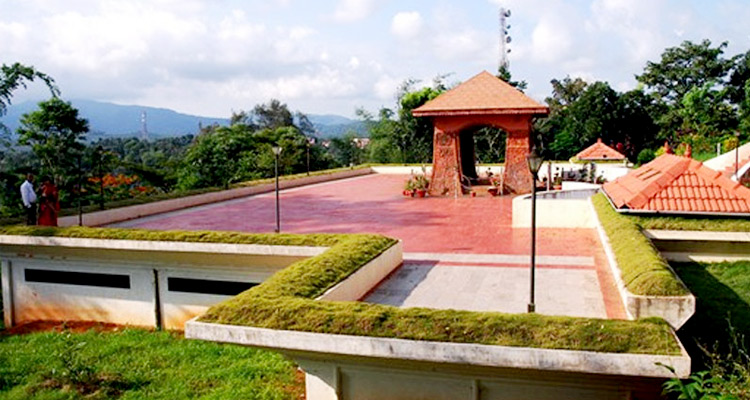 Pazhassi Memorial
The body of Veera Pazhassi, the Lion of Kerala who organized a guerilla war against the British East Indian Company is buried at Mananthavady, which is 32 kilometers northeast of Kalpetta. It is here that a memorial was built in his memory, on the banks of the Kabani River. The Pulpally Cave, where Pazhasssi took shelter in during the war, now houses a collection of his memorabilia.

Jain Temples at Panamaram
These ruined Jain Temples are situated within 5 kilometers northeast of Panamaram. The first of the people who migrated into Wayanad were Kannada speaking Jains. These people first came to the banks of the Kabani which was Panamaram. It is here that they built the Jain Temples that formed an integral part of the history of Wayanad. Now, though severely damaged, these temples form an excellent example of stone sculpting tradition. Altogether the site gives one a sense of mystery.
Sulthan Bathery Jain Temple
It is generally known as Tippu's Fort and situated at Sulthan Bathery town. Tippu used this temple as the Battery of his army. According to history, the Bathery Jain Temple was built 800 years ago. Earlier it was known as Kidangad Basti. This ancient structure first was a shrine, next became a commercial trade center and at last, served as the place to store the ammunition and battery of the army of Tipu Sultan.